Rehabilitation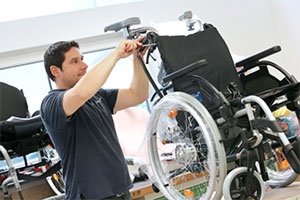 Activity, mobility and independence are key to the quality of our lives. Those who feel restricted either due to a serious accident, illness or age often find this a significant impairment. Our product range comprises many aids and devices which help you in everyday life and allow you to maintain a certain level of independence. Find out more about the latest rehabilitation technologies. Amongst the products we present in our shops are a number of technical aids for you to look at or try out.
As a member of rehaVital's Schlaganfall (stroke) research group, we also offer a full range of rehabilitation products. If you wish, we will of course also visit you at home.
Our portfolio of services includes:
Wheelchair services… read more

As far as the different wheelchair options are concerned, the experts at Sanitätshaus Frohnhäuser focus on a perfect combination of technology, comfort and suitability for everyday use. This is why we take time to determine which wheelchair is best suited for your particular needs. In addition to the width of the seat, your weight and the weight of the wheelchair itself, we also take into consideration more personal criteria. We support your mobility with advanced products, detailed consultation and our many years of experience.

In the following, you find a detailed overview of our services in:

Adaptive wheelchairs
This category of wheelchairs is also referred to as active wheelchairs. In general, they feature a lightweight frame made of aluminum, titanium or carbon fiber. The users themselves propel these wheelchairs manually using the handrims, e.g. customers with a paraplegic syndrome. It is possible to move the wheelchair's center of gravity by adapting the drive axle to ensure an ideal transmission of power from the arms via the handrims. Our modular wheelchair system features a wide variety of components. They allow the wheelchair to be fully adapted to specific needs. The driving dynamics too can be precisely adjusted thanks to various setting options. An adaptive wheelchair is customized to fit the individual body size and needs of its user. We distinguish between foldable adaptive wheelchairs and non-foldable ones, also referred to as rigid frame wheelchairs. Compared to the foldable wheelchair, the rigid frame wheelchair features better driving characteristics, as the power transmission to the wheelchair is more direct. The decisive factor for the choice of wheelchair is often its loadability into passenger cars and the individual requirements the wheelchair has to fulfill.
Sanitätshaus Frohnhäuser's experts will be delighted to provide you with individual advice on wheelchairs.

Sports wheelchairs
These particular wheelchairs are adapted to the individual requirements of the user and the exact type of sport. There is a wide range of wheelchairs to choose from for activities as diverse as tennis, athletics, wheelchair basketball or wheelchair football. Close cooperation between the sportspeople, specialized wheelchair retailers and manufacturers enable users to attain the highest performance levels in their particular sports activity.

Light-weight wheelchairs
The main difference between this range of wheelchairs and the standard range, consists mainly in their reduced weight. This also allows a higher degree of adaptation to the individual user. This type of wheelchair is mainly suited to the needs of users able to live independently.

Standard wheelchairs
These wheelchairs are mainly used as a means of transportation, e.g. in hospitals or in retirement homes. Standard wheelchairs are designed to fulfill only basic care needs and are not designed for long-term use.

Multi-function wheelchairs
Thanks to its numerous setting options, this type of wheelchair works as a mobility aid ranging from lying down to sitting up and also supports a particular seating position. Consequently, a multi-function wheelchair is often also referred to as care wheelchairs. They can be adapted especially to the needs of users with most severe disabilities.
Our partners:
Fa. Meyra, www.meyra.de
Fa. Sopur, www.sunrisemedical.eu
Fa. Küschall, www.kuschall.com

Electric wheelchairs
The current range of electric wheelchairs increases tremendously the activity range of people who are unable to propel their wheelchair manually due to their particular disorder. There are various different types of electric wheelchairs. They are divided into indoor, outdoor or combination electric wheelchairs. These battery powered wheelchairs are mostly controlled with a joystick.

Scooter and electric mobilities… read more

Independence and free movement at any time – this is a comfort which electric wheelchairs provide, be it for shopping, visiting friends or planning a family outing. The Scooter is an easy-to-use aid which ensures your independence, as you can still pursue activities outside your home without anybody's help.

Our partners:

Fa. Meyra,

www.meyra.de

Fa. Invacare,

www.invacare.de

Fa. Otto Bock,

www.ottobockus.com

Rollators and other mobility aids… read more

There are many solutions that help you maintain your mobility and independence in everyday life. Sanitätshaus Frohnhäuser will offer you exactly the right support and device for each particular phase of your life.  We offer various supports for walking and standing for senior citizens or people suffering from Multiple sclerosis (MS), Parkinson's disease (PD) or other conditions. We explain the different options which fit your requirements and which will improve your well-being and safety when choosing your personal mobility aid or device, such as rollators or canes.

Our partners:

TOPRO GmbH,

www.topro.no

HandiCare GmbH,

www.handicare.com

INVACARE GMBH,

www.invacare.de

Movement therapy… read more

One of the prerequisites for maintaining your bodily functions and staying active is to stay active on a daily basis. A motion trainer carefully ensures the gentle movement of legs or arms. You can choose from a passive training (motor-powered) or an active training using the strength of your own muscles.

The movement is flowing and guided, like in cycling. Depending on the model, you exercise either sitting on a chair or a wheelchair or while lying in bed.

Motion exercise to counter Parkinson's disease (PD)
A discovery by American scientists shows that fast cycling movements significantly reduce typical Parkinson symptoms. This led to the creation of MOTOmed viva2 Parkinson. Thanks to specially designed components, the device reaches a very high motion speed of up to 90 rpm, which facilitates the employment of a new therapy method called "forced exercise". MOTOmed viva2 Parkinson allows PD patients to benefit on a daily basis from the positive impact of fast, passive movements. A specific exercise program, which can be adapted to individual requirements, makes each training unit simple and effective.
Our partners:
RECK-Technik GmbH & Co. KG, www.motomed.com

We can make your life and that of your family at home much easier. With safe, easy-to-use lift systems for all living areas, Sanitätshaus Frohnhäuser supports the independence of its customers. It is easy to take care of ones own bodily care again and moving over several floors at home is no longer an issue. With our advanced solutions, we noticeably improve people's quality of life.

Our partners:

Lifta GmbH,

www.lifta.de

Hill-Rom GmbH,

www.hill-rom.com

HERRMANN & CO GmbH,

www.herrmann-co.de

Aids for bath/shower and restroom… read more

Going to the toilet, taking a bath, shower or wash – these are activities that healthy people take for granted. Disabled or elderly people however, often require assistance in these sensitive, intimate areas. The application of well thought-out products can increase independence and personal freedom.

Sanitätshaus Frohnhäuser's expert staff will be pleased to advise you.

Our partners:

MEYRA GmbH,

www.meyra.de

Drive Medical GmbH & Co. KG,

www.drivemedical.de

INVACARE GMBH,

www.invacare.de

The developments in the field of nursing and care should be utilized. Sanitätshaus Frohnhäuser customers benefit in two ways from the current technological possibilities: People in need of care benefit from the additional comfort the individual settings offer, while the care personnel enormously benefits from the physical relief they bring to their patients. In addition, this professional equipment also fulfills important safety aspects. Our staff will analyze your individual situation, inform you about the latest solutions and recommend functionalities which really make sense for you in your particular condition.

Our partners:

Burmeier GmbH & Co. KG,

www.burmeier.com

Anti-decubitus systems… read more

Specially designed pressure-relieving mattresses can prevent or reduce decubitus (pressure sores) in bed-ridden patients or people with restricted mobility. Positioning aids help with repositioning patients. For many years, Sanitätshaus Frohnhäuser has been looking after this group of patients and assists its customers with both experience and high-quality systems.

Our partners:

ADL® GmbH,

www.adl-gmbh.de

Funke Medical AG,

www.funke-medical.de

SLK GmbH,

www.slk-gmbh.de

Tailor-made seat shells… read more

The standard provision of aids already offers a wide range of individual solutions. However, complex conditions and multiple disabilities often require the use of special care products. These include molded seat units which are tailored to the patient's body shape. Our Special Design department is specialized in this area.

These care services are based on an in-depth consultation and the continuous dialogue with care personnel and therapeutic staff. Providing long-term assistance to people with disabilities and their families is therefore a primary goal, because the development, growth and success of a therapy require prompt adaptations. This and the remodeling of existing care products and devices are services provided by Sanitätshaus Frohnhäuser's in-house Special Design workshop.