Orthopedic footwear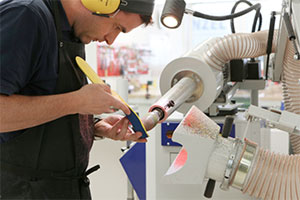 Every day our feet have to work very hard and are under a lot of strain. Consequently, there are several factors that cause serious foot problems, including rheumatism, diabetes and fashionable footwear. Since the posture of the feet greatly affects the spine and joints, it is very important for human mobility to concentrate on foot health. As soon as the first problems start to appear, you should consult an orthopedic specialist to avoid expensive consequences.
Our team of professionally qualified orthopedic shoemakers and qualified orthopedic shoe technicians concentrates exclusively on ailing feet. Each and every product – from custom-made insoles to customer-specific orthopedic shoes – is manufactured in our workshop.
If required, we make a computer-based analysis of your foot (3D scans, pedography) to ensure that your feet receive optimal care. Our orthopedic footwear is manufactured individually, as patients require a product tailored to their specific condition. As we ensure that our employees pursue continuous professional further education programs, they are always familiar with the latest technological developments.
Our portfolio of services includes:
Individually milled and ready-to-use insoles… read more

Individually manufactured insoles have been specifically developed for active people. They noticeably protect and support the musculoskeletal system.

Our insoles, which are milled using state-of-the-art CAD techniques, allow the exact distribution of pressure and relief based on specific areas of the feet.
Orthopedically effective insoles designed for specific sports activities. The Frohnhäuser medical supply stores also provide a wide selection of high-quality

The Frohnhäuser medical supply stores also provide a wide selection of high-quality insoles e.g. for the relief of pressure on the forefoot and the heel or to cradle the soft parts of the heel spurs.

Frohnhäuser's highly qualified staff custom-make these products to your specific needs.

Custom-made shoes and prescription foot orthotics… read more

For diabetes sufferers in particular, Sanitätshaus Frohnhäuser offers specific therapeutic shoes without seams to avoid pressure marks. To achieve this, it is vital to have rocker soles, sole stiffeners and specific lining which is washable and can be disinfected. During our Foot Consultations our professionally qualified experts in orthopedic footwear also measure the inside of the shoes to clearly identify pressure peaks. These expert care services also include the computer-based manufacture of insoles.

Frohnhäuser's highly qualified staff custom-make these products to your specific needs.

Safety work footwear… read more

Cooperation with the company STEITZ SECURA GmbH 

Repair of your lifestyle shoes… read more

At Sanitätshaus Frohnhäuser we do what we can to make your favourite shoes last longer by providing expert, high-quality repair of lifestyle shoes. Thanks to our depth of experience, we can advise and produce great results to make your well-loved custom-made shoe look like new.

Frohnhäuser's highly qualified staff take care of these repairs.

Analysis of your gait pattern… read more

We get to the bottom of the problem. With our computer-based movement analysis, we reliably detect the cause of your joint and/or muscle conditions. Detailed discussion is followed by a video analysis. This service will be completed with a detailed evaluation and recommendations on insoles, running shoes and training techniques. We do, of course, also offer a gait analysis for prevention purposes, e.g. if you are planning to take up your sports training programme again after a long pause.

Frohnhäuser's highly qualified staff uses the latest technology to make these analyses.

If required, we provide custom-made sports insoles, which noticeably protect and support the musculoskeletal system.

Sports insoles, which are milled using state-of-the-art CAD techniques, allow the exact distribution of pressure and relief based on specific areas of the feet.
Orthopedically effective insoles designed for specific sports activities
Specific insoles for every type of sports activity.
Link to download the "Perfect Step Brochure"