Information for physicians
Regulations manual for medical practice
We attach great importance to good cooperation with physicians. For this reason, Sanitätshaus Frohnhäuser have compiled a regulations manual. This information is designed to provide you and your staff a quick overview and enable the smooth handling of prescriptions.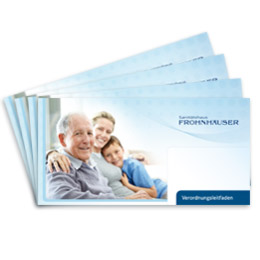 Click here to access the regulations manual directly.
We will be pleased to assist you and your practice staff with any questions you may have. Simply call us at 0049 6131-287110 or send us an email at info@frohnhaeuser.com.
Holistic stroke care provides added value
Improved care for stroke patients
At the same time: savings potential of 1,193.00 euros per patient
Ladies and Gentlemen,
In the following communication, we explicitly address physicians, as they are usually the first people to assist stroke patients and are most familiar with the stroke patients themselves as well as their families. Sanitätshaus Frohnhäuser is a member of rehaVital stroke research group, a community of 120 professional medical supply stores and specialist health care companies.
With this communication, we would like to provide you a quick and concise overview of the results of the current study on the rehaVital care model and pursue two different aims:
Aim No. 1: Improved care for stroke patients based on "integrated all-round care"
Aim No. 2: Cost savings thanks to an "integrated all-round care" of 1,193.00 euros per patient.
As a member of rehaVital, the experts of Sanitätshauses Frohnhäuser know that stroke patients make better progress in regaining their capabilities if they are cared for comprehensively based on a structured care concept once they have been released from inpatient rehabilitation. Our needs-based care comprises, amongst other things, an indepth analysis of requirements, a selection of effective aids/devices and their adaptation to the respective patient's specific requirements. It is crucial to the fulfillment of aims 1 and 2 to involve the patients in decisions and ensure a continuous support.
The current study of the rehaVital care model proves that physicians and health care providers can achieve a lot if they work closely together – it produces both the best results for the patient and a reduction of cost.
In the following, we have summarized the presentation of the study for you in a brief report:
Study on the rehaVital care model
We thank you very much for your interest.
Summary of the current study – rehaVital stroke network
People concerned:
In Germany, 270,000 people suffer a stroke every year; almost two thirds of the patients remain disabled for an extended period or will remain dependent on outside help.
These are the advantages of integrated care (360° care services):
Added value for the patients:
Reduction in falls
Reduction in pneumonias
Reduction in decubitus ulcers
Added value for the insurance companies:
With an allocation of 162.00 euros, a cost saving of a total of 1,193.00 per patient can be achieved over a care period of three years.
The desired quality of care is achieved thanks to coordination and organization. This includes the following measures:
Joint purchasing
Contract management with insurance companies
Quality assurance measure
Professional care concepts
This is what our patient-oriented care model includes:
Start:
Staff qualification "stroke specialist"
Adaptation of the process in the medical supply store
Set-up of an indicator system
as well as health economic modeling and adaptations of the models.
Thanks to these approaches, complications caused by the application of wrong aids can be avoided and the higher cost at the beginning can be at least offset during the course of the therapy.
The core elements of the care model are:
Holistic 360° recording of the requirements
Briefing on the correct use and significance of the use as well as motivation for complianc
Involvement of the patient in decisions
Fast supply of aids/devices
Systematic assistance of patients
If required adaptation of the provision of aids/devices
Refreshing of information about the correct use; renewed motivation of the patients to use the aids/devices
To ensure this, a qualified main contact person will be put in place, 24/7 on-call duty/emergency service, coordination with other service providers.
We stand for improved care for stroke patients and kindly ask you for your support.
Thank you very much.